---
QUALITY POLICY
---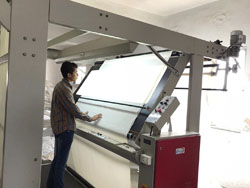 ---
Our unparalleled quality assurance outlines our ingrained conformity to the necessities leading to excellence worldwide. Our policy adheres to the highest standards of processes, with 4 point checking system and statutory requirements for productions of globally approved range of textile material.
Our policies are inseparably part of our ethnic corporate policies that are evident in our paradigm of governance that reinforces the importance of two-way and democratic functioning, in entirety. It resonates the imperative of understanding and power to advantage the end consumer ultimately.
The unambiguous guidelines of our quality policy constitute not only creating artistic and aesthetically elegant clothing and attire, but also facilitate with solutions to eliminate inconsistencies in the overall process, and explore areas of improvement in quality and techniques for producing yarns, woven fabrics, yielding finesse to products.
Our approach looms uncompromised at every stage from start to finish of manufacture and logistics of the merchandise. Certainly, our collaborations with reputed organisations enable remarkable output of trendy and stylish upshots.
The policies are also about our standard operating procedures and quality assurance that go in tandem with competitive pricing and effective service standards.
Supervening scrutiny or assessment of fabric quality, testing practices and methodical measurement at every stage and quality control are equally integral to the framework, which we untiringly exercise.
Assured transparency with efficient management and subsequent escalation is crucial, in order to meticulously eye at perfection and elimination of conflicts and problems - as a result, it determines our quality assurance agenda.