---
WHAT WE DO
---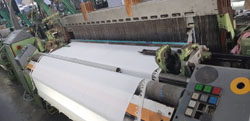 ---
R. K. Textiles has been synonymous to quality, style and trends in Men's and Women's clothing. As a high-end manufacturer of Cotton, Cotton Polyester, Polyester Cotton and 100% Polyester in Shirting and 100% HighTwist cotton Gas Yarn Fabric, Shirting for men and kids and Voile Fabric for women, the company became a pacesetter in the domain across the globe.R. K. Textiles added to its repertoire a massive range of fabrics which comprises competitively priced products with unrivalled quality.
The company amassed enormous investments on building an organization that is complete in management skills, marketing adeptness, manufacturing facilities, administrative outlets and office, with competent team and manpower, logistics and distribution as part of consummate service.
The distinctiveness of the business idea was to be at par with the global quality standards, abiding by the norms and regulations of the business. Besides, it was also about acquiring sustainability in the process and governance, and consistency in quality, creating a single window of a massive range of products and solutions.
From former trends to contemporary, our catalogue of textiles solutions assures benefits in abundance, identifying our advanced technology usage and professionalism in manufacturing.
The core objective of R. K. Textiles is to be steadfast in constantly enhancing quality, based on research and knowledge of the changing styles. Our outlook has been immensely progressive, aiming at a 20% year-on-year growth with a pan India distribution network, to have optimum reach.