---
R & D
---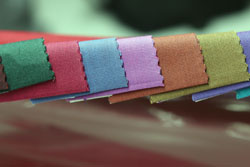 ---
Our methods of production have proved appropriate, harnessing the key drivers to get the desired output and quality to meet the humongous and complex needs; one of them is our uncompromised Research and Development.
Our R&D, at the outset, brings in the focus areas like the economically competitive benefits, much-needed dynamic forces to enhance performance, besides the significant elements to adapt and achieve amplified global competitiveness.
We research continuously at fabric level in the form of Bitlooms and Yardages. Our facilities complement our R & D methodologies. We tirelessly ensure sustainability in the global market, encompassing high-end resources to develop top quality fabric and designs.